Located on the outskirts of Stellenbosch, 96 Winery Road Restaurant is the perfect destination for a memorable dinner outing. Boasting a diverse menu full of modern-meets-traditional dishes, this charming restaurant ensures that every diner is treated to an exquisite experience.
Décor and Ambience
The décor of the restaurant and its surrounding area creates a cozy atmosphere. Exposed stone walls, wooden accents and a high vault thatch roof give off a rustic vibe that can only be experienced in the beautiful Western Cape Winelands of South Africa. The lighting is just right for romantic dinners or leisurely meals with friends and family.

The Menu
There is something for everyone on the menu at 96 Winery Road Restaurant. From succulent seafood dishes and tender beef to vegetarian options and vegan meals. All palates will be appreciated. The chefs have created a variety of flavours that blend traditional with modern techniques making each bite packed with flavour and comfort.
La Bonne Auberge's owners, Remco and Tanja, have been raving about 96 Winery Road Restaurant and they particularly love the Hollandse Pepper Fillet, Venison Carpaccio and Pan Fried Gnocchi.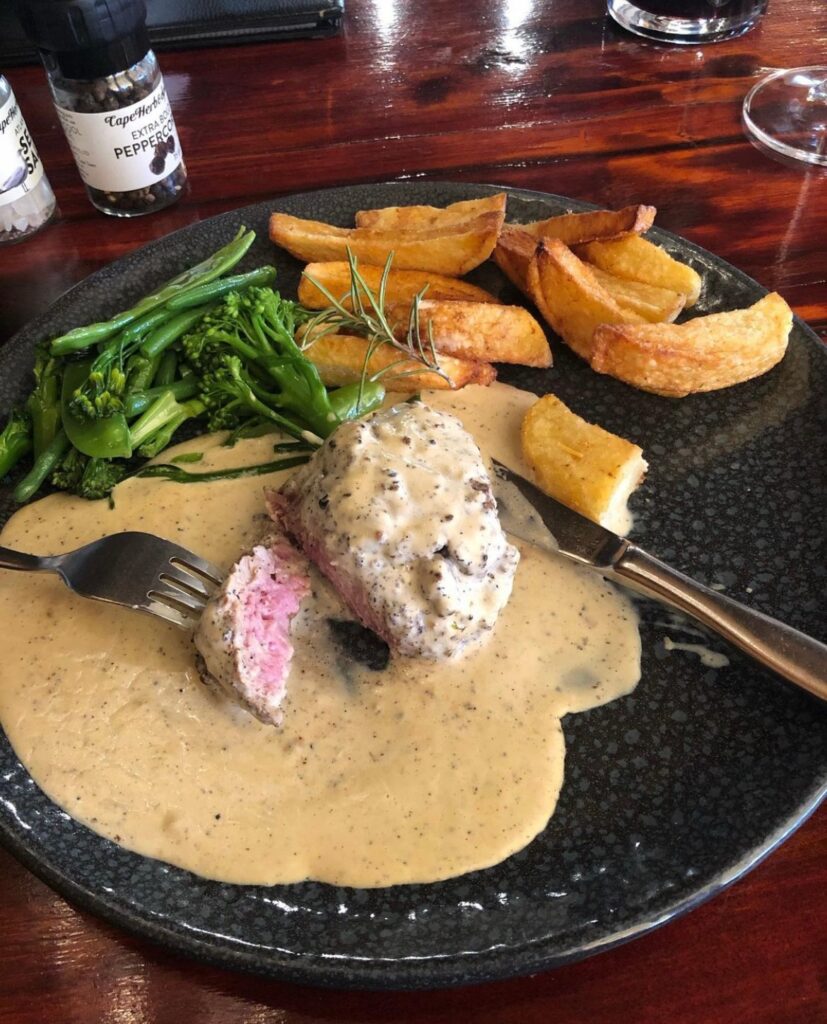 Their Signature Plates Menu
At 96 Winery Road Restaurant, visitors can experience their signature Plate Menu – a delicious selection of dishes to choose from. There are plenty of options for everyone to select two, three or four dishes each! You can finish it off with something sweet, they also have an array of delicious desserts included.

The À La Carte Menu
Alternatively, you can choose from the a la carte menu – start your meal with one of the restaurant's signature appetizers such as prawn ceviche or seared tuna tartare. For the main course, they offer wild-caught fish, Angus beef steaks, pulled pork sandwiches or curried vegetable pies. Speciality dishes change seasonally to make sure that the freshest ingredients are used in every meal. They also offer several sides like herb-roasted potatoes or freshly baked bread that can turn any meal into an unforgettable feast.
If you're up for dessert after a savoury dinner, 96 Winery Road Restaurant does not disappoint. Sweet tooths will love their selection of desserts ranging from chocolate brownies with ice cream to crème Brulé and homemade cakes. You can even finish your meal with a glass of dessert wine from their extensive wine list.

The Surrounding Area
If you're looking to explore the Winelands further during your outing, the restaurant's location is ideal for taking advantage of the nearby attractions. It's only a 15-minute drive away from La Bonne Auberge Guest House in Somerset West. Visitors can enjoy panoramic views of the vineyards alongside rolling hills stretching beyond them.
Overall, 96 Winery Road Restaurant has everything you need for a delightful dining experience in Stellenbosch's lush surroundings. From its picturesque interiors to its mouth-watering cuisine. It will surely exceed all expectations when it comes to enjoying great food in an idyllic setting making it worth the visit every time!

La Bonne Auberge Guest House
Visit La Bonne Auberge Guest House in Somerset West, Helderberg and explore the beautiful surrounding winelands! Enjoy a variety of experiences and activities, all just a short drive away. Click here to book your stay today!