Pink Valley's wine making is committed to uniqueness, purpose, and passion for making and expressing a single specialist rosé wine. In addition it is the first of its kind in South Africa.
Located near Stellenbosch on the elevated slopes of the picturesque and majestic Helderberg Mountain, Pink Valley is a wine venture by the Oddo Family of France, marking their debut in South Africa.
The Oddo Family
The vineyard is owned by Oddo Vins & Domaines. A French wine company belonging to the father-daughter duo Pascal and Lorraine Oddo. Furthermore, the Oddo family has existing wine endeavours as far as France, Spain, and lastly Sicily. The property comprises nine hectares of vines, the Pink Valley Restaurant. It is also the only winery in South Africa exclusively used for the making of rosé wines.
Their Wine
Most importantly the objective for Pink Valley is to offer a rosé wine of classic style and top-end elegance while maintaining rosé as a fashionable lifestyle wine. The international sales of rosé wines are on the rise, and this stunning cape vineyard meets the need for premium-priced quality rosé wines.

Pink Valley's blush-coloured rosé wine is a triumph of onion-skin colouring, with copper-pink highlights. It is made from a blend of grenache, shiraz, Sangiovese, and cinsault. It offers a luscious mouthfeel, and flavours of watermelon, cherry, strawberry, and citrus, thanks to extended lees contact. The winery has a 200-ton capacity for harvested grapes. This rosé wine shows extraordinarily bright fruit, with ripe notes of melon and tropical fruit, followed by a round, beautifully balanced palate that lingers long after the initial sip.

Their Inspiration
Pink Valley's unique philosophy towards winemaking is further enriched by their love for art. South African painter Walter Battiss (1906 to 1982), known for his contribution to the 'Fook Island' concept. He is one of South Africa's foremost abstract painters and inspires Pink Valley's colourful artistry. His abstract and witty cartoons encapsulate much of his work that serves as inspiration for their wines.
Pink Valley's bottles come with four different Battiss-inspired labels that each depicting its unique personality.

Their Restaurant
La Bonne Auberge's owners, Remco and Tanja, visit Pink Valley Wines as one of their favourite outings. Not just for the rosé wine, but also for the fantastic menu all presented in a beautiful setting with world-class décor. This is what they have to say about Pink Valley:
The Pink Valley holds a special place in our hearts. Nestled in the vines, it's familiar, cosy and quiet. The taste of the fresh and fruity rosé is the cherry on top. The tapas are always freshly made and extremely delicious, with our favourites being the Harissa Cauliflower, Humus, and Pork Belly. It's the perfect escape during our day. It's just a few minutes' drive from La Bonne Auberge. A visit to Pink Valley Wines is a must for anyone looking to unwind amidst picturesque surroundings.

The Pink Valley's restaurant offers patrons a unique, modern, and relaxed atmosphere. Here you can share and enjoy contemporary tapas dishes, either with friends, family, or colleagues. One can simply pause and admire the pristine surroundings of the Helderberg with a glass of the exquisite Pink Valley Rosé in hand.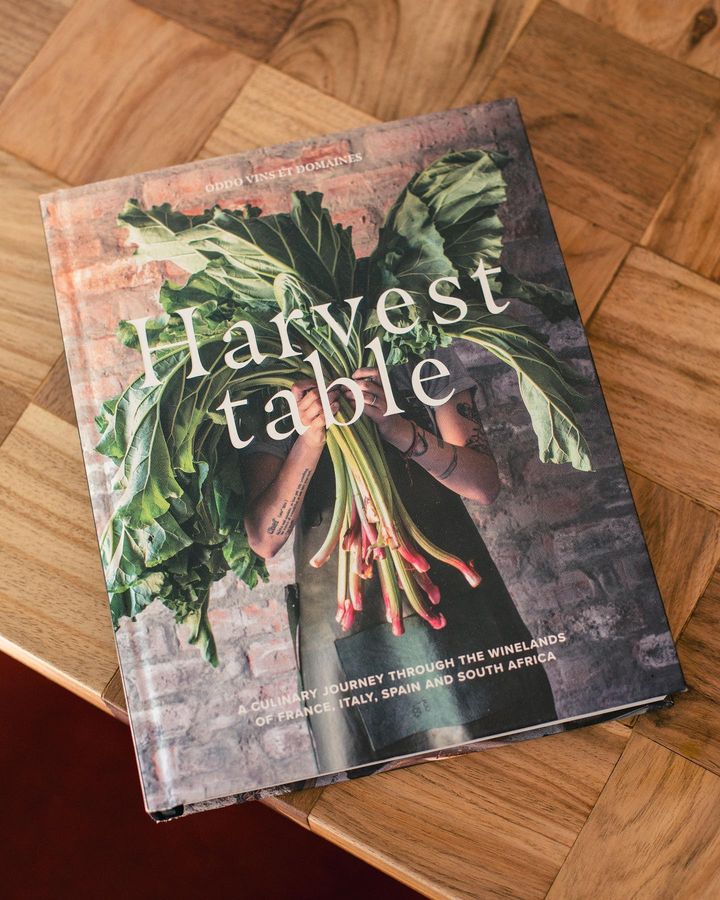 They even have their very own award-winning culinary book, 'Harvest Table'. It all started from a simple conversation about good food and wine which quickly turned into a full-fledged passion project. Exploring the stories behind the ingredients, communities, and local producers that make the Oddo Vins et Domaines wines so delicious is the main drive.
The book is full of mouth-watering recipes that range from traditional to conceptualized ones. But be warned, these recipes are not just food furthermore they're are also an experience! And if you're smart enough, you will get a case or two of their speciality rosé to pair with the dishes. So, head down to Pink Valley, grab a copy of the book, and take home your very own piece of this culinary heaven!
Photo Credits: Tanya Overman and Pink Valley Wine Estate | Instagram